Mission Statement
The mission of EYE Can See is to provide services, products & support for individuals with low-vision or blindness that assist them in their daily lives. Our goal is to assess and meet each individual's needs by providing on-site demos, delivery, set-up, training & continual support for all of our products. We also have a Demo Center in the Broad Ripple area of Indianapolis that is open Monday - Friday by appointment. EYE Can See is the authorized local dealer in Indiana & Kentucky for several of the best manufacurer's of low-vision and blindness products.
______________________________________________________________________________
News, Features & Promos
We are now located at 6311 Westfield Blvd (Suite 103-A) in the Broad Ripple area of Indianapolis. Our Demo Center is open for you to see and work with all of our products. We recommend contacting us first to make an appointment, and hope to see you soon!
Also, please visit our new Web Shop at http://eyecansee.lowvision.com/
See the New ClearView C in Action!!
Brand new contemporary design from Optelec!
Available in 22" High Def & Standard Def
Available in 24" HD, SD, HD SPEECH & TwinView
_______________________________________
24" High Definition OCR SPEECH CCTV
______________________________________
Available in 22" High Def & Standard Def
Available in 24" HD, SD, HD SPEECH and TwinView
______________________________________
High Def Desktop Video Magnifier with Near, Distance & Self Viewing
Available in 20", 22" & 24" HD
_______________________________________
High Def Desktop Video Magnfier with Near, Distance & Self Viewing
_______________________________________

NEW - ZoomText Mac with Speech
ZoomText for Mac with Magnification & Speech
_______________________________________
High Definition 4.3" Ruby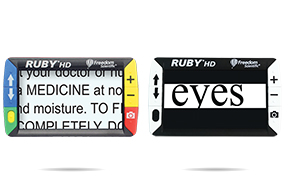 _______________________________________
Touch Screen Hand Held Video Magnifier
_______________________________________
5" High Definition Ruby w/New Handle & Pop Up Screen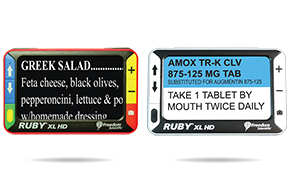 ______________________________________
Software & Camera Solution to Capture & Read Text
(Contact us for special pricing for existing ZoomText customers)
_______________________________________